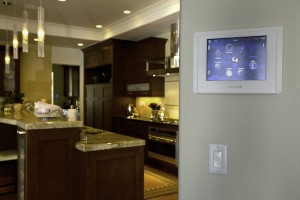 Adding a lighting system to your home is a step taken by those who want convenience, efficiency, and the wow factor.
Lighting Control systems employ banks of centrally located switches that can be time controlled, group controlled, timed for scheduled events, and intelligently detect if part of your home is occupied or not turning off groups of lights as needed.
Convenience.  Ever fumble for your house keys at night?  Ever get caught in a dark room fumbling for a light switch?  Ever arrive at a weekend getaway only to remember that you may have left lights on at home?  Your lighting control system can solve all of these problems with:
Intelligent sensing switches (Motion sensor controlled)
Proximity sensing locks and porch lights
Mobile app controlled systems for control of your home from anywhere.
Efficiency.  The cost savings from managing lighting in your home will pay for these systems in about 3 years. Electric use will drop significantly in most cases.  Using automated dimmers, intelligent thermostats, and gas valve switches can further lower utility costs.
Wow factor. The systems we work with every day are only limited by your imagination.  Lighting sets the mood for your home with:
landscape lighting
fountain lighting
multicolor RGB striplights
dim-able theater lighting
theme programmed groups of lights for special events
gas light controlled valves for flame fountains, gas lamps, and gas fireplaces.
and many more applications.
Call us today to get your vision planned and executed by the professional installers at The Audio Video Guys.